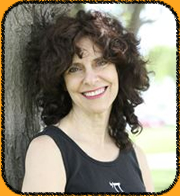 Michelle Booth grew up in a warm and loving Jewish family in Des Moines, Iowa. She is the fourth of five children (who are currently scattered between Jerusalem & Honolulu) born to Hyman, z"l, Des Moines' only Jewish fireman, and his balabusta wife, Bess, z"l. Their home was blessed with laughter, love & Jewish tradition.... as well as yummy cookies, cinnamon rolls & brownies for which Baube Bess was adored well beyond the mishpocha!
In 1973, Michelle left the Midwest for Connecticut and began a 20 year career as a medical technician in Ophthalmology. She followed her heart to San Francisco Bay in 1975. As her interest grew in the local Jewish community, Michelle volunteered to work with the San Francisco Jewish Film Festival. She served for 13 years as their Volunteer Coordinator, and traveled to Moscow in 1990 as Filmmaker Liaison when the Jewish Film Festival was brought to the Soviet Union. With the birth of her daughter Alystar in 1993, Michelle left full-time work behind for the joys of motherhood ... but that hasn't slowed her down!
Michelle is an active member of her synagogue (where she reads Torah regularly), organized the weekly Challah sales at her daughter's Jewish Day School for 11 years, and served on the Board of Shalom Bayit (Bay Area Jewish Women Working to End Domestic Violence).
When she returned to work part-time, Michelle sought to integrate her love of Judaism with her career and found a job in a wonderful Judaica store in Palo Alto. This job was a perfect fit, but being caregiver for both of her parents at that time, as well as a single-mom, Michelle's life necessitated being closer to home.


The birth of "Miram's Well… Your Simcha Resource"!
With "Miriam's Well", Michelle brings her love of Jewish ritual, music & Judaica together with her retail experience to assist you with your Simcha.
---
The Name: Miriam's Well
by Alystar
I have really no idea why I chose the name Miriam's Well. At first, when we (Mom and I) were thinking of names for our home-based business she wanted to call it Mazel. That name fit in worse than a Bertie Bott's Bean in a Jelly Belly box (we sell these, too!). Then it just came to me. "How about Miriam's Well?" I asked. The name stuck. Anyway, if you read this for further explanation, I've got the origin right here:
The Torah tells us that as the Jews traveled through the desert, having just escaped from Egypt , they grew hungry and were afraid they would soon starve. G-d looked down and saw their trouble, then made certain that every day, food would fall from the sky. This was called mana, a bread-like substance that would taste like whatever it was you desired. All went well for a time, but then the Jews began to get thirsty, and without a means of water they were bound to die. Looking down and being proud of Miriam's righteousness, G-d provided a well in her honor that would follow the people of Israel through the desert until the day of Miriam's death.
Today, at the Passover Seder, many Jews have a second cup (in addition to Elijah's) that holds water rather than wine and symbolizes the healing waters of Miriam's well. Miriam's Cup also represents the sustenance the well gave to the Jews in the desert.
Our Miriam's Well can help sustain you through planning a simcha, ordering kippot and invitations, or providing beautiful Jewish ritual items and appealing 'chatchkas.'
---
Having experienced the exuberance and pride of her own daughter's Bat Mitzvah in 2005, Michelle is now ready to help guide YOU! She will be a priceless resource for everything you need to make your Simcha memorable & enjoyable for the hosts, as well as for the guests.
In 2009 Miriam's Well expanded with a second location in Palo Alto. We have now returned everything to our original location in Foster City for all of your Simcha invitation needs!

Michelle continues to spend most of her time at the Foster City location. It is here that she sells invitations for B'nai Mitzvah, Jewish weddings, and every other occassion. Miriam's Well has received a Reader's Choice Award for Invitations each year since 2007!
Come for your Simcha needs to Miriam's Well.
We'll help with the organizing… you can relax & Kvell!
---
Be sure to read our PRESS page, too!